Pra Somdej Kaiser Jumbo 5.4 x 3.3 Cm - Pim Ok Krut Sian Badtr - Nuea Krabueang Dtaek Lai Nga - Wat Arun 2554 BE
02335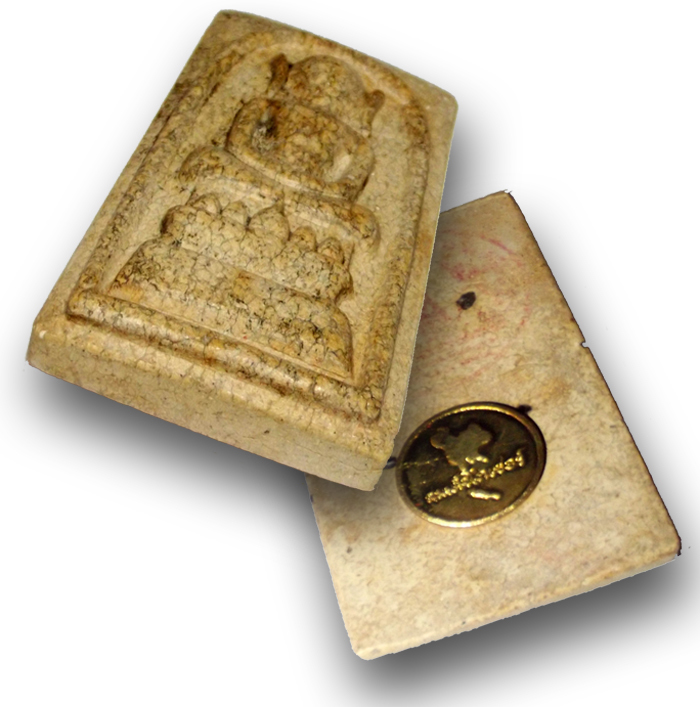 Benja Pakee Top 5
Price:
89.99
USD
In stock
Pra Somdej Kaiser Benjapakee Amulet from the Temple of the Dawn. Taken from the reserves, and released to complement the 2554 BE Gao Mongkol edition. Pim Jumbo (Giant size) recommendable for Men, Larger persons, and those who like to wear the Giant Size Jumbo amulet.
This edition of amulets, was officially postered with the Somdej, Pra Yord Tong, and Nang Paya Benjapakee Set as the officially publicized release, but, as those in the know and niche collectors already know, this edition conceals an extremely famous and collectible Sacred Amulet within its fold. The Somdej before us is not visible on the official poster (below), but is indeed, perhaps the amulet which the Cult Collector is truly seeking, and for which the Temple of the Dawn has been famous for since the Days when Somdej Pra Puttajarn Dto Prohmrangsri of Wat Rakang Kositaram still sat within the Palace.
This amulet of which we enjoy gazing at, is, of course, the Pra Somdej 'Gai Sir' - the 'Kaiser Somdej', which is known for its 'Hoo Bai Sri' long eared and round headed image, and for the crackly texture of its sacred powder surface. The Pra Somdej Kaiser was issued at Wat Arun along with the Somdej Koo Bun Baramee Dtor Ngern Dtor Tong, and Pra Yord Tong.
It was made in three different Pim; 'Pim Jumbo, Pim Yai, and Pim Lek', meaning 'Giant size, large size, and small size'
The edition was spearheaded by the second ever issue of the Wat Arun Pra Yord Tong Loi Ongk Buddha Image statuettes, with these Pra Somdej amulets, as the official flying colors of the edition.
In addition to these, there were also a series of 3 amulet box sets of Pra Nang Paya Sacred Powder Benjapakee amulets released, using powders from the Ancient Kru hiding chamber of the Pra Nang Paya Gru Gao. As already mentioned, there were three differently sized models of this Eternally Classic Pra Somdej Kaiser amulet released within this edition, but were less announced as usual, for their eventual depletion is certain with or without advertizement of their existence, due to the large number of cult niche collectors of this type of amulet.
A coin with the Thailand Map on it and 'Ploi Sek' blessed Pokasap Gemstones are embedded in the rear side of the Pra Somdej Kaiser, with the traditional red ink of the rubber stamp of the temple visible on the surface.
The purpose of this edition, or, better said, purposes, were to Celebrate the 84th year of Life of His Majesty the King, to pay for the education of young Samanera Novice and Bhikkhu Monks, in learning the Vinaya (Buddhist Canon). To support the education of poor and disadvantaged children and adolescents, and to fund various charitable projects for the betterment of society and the local standards of living.
Comittee of Sponsors responsible for the official release and creation of this edition for this Auspicious Occasion were;
Sangha (Ordained Persons); Pra Taep Mongkol Rangsri, Pra Taep Maeti (Comittee Chairman), Pra Pipita Patanagarn.
Karavasa (Lay Persons); Ajarn Prayut Jantr Ocha.
Monks present for the Putta Pisek Blessing Ceremony were;
Luang Por Cherd, Lyang Por Samrit, Luang Por Chaliew Luang Por Wiwat, Luang Por Giaw Chart, Luang Por Briam, Luang Por Somchai, Kroo Ba Bun Tiam, Luang Por Tawee, Pra Ajarn Surasak, Luang Por Witaya, Luang Phu Nam, and Luang Por Pongs.
See all amulets in this edition here; Pra Yord Tong 2554 BE Amulets - Wat Arun 2554 BE
Kata Bucha Pra Somdej
Om Sri Sri Prohmrangsri Namadtae Mahaa Thaeraanusadto Maedt Dta Dtang Sukhang Andtaraayang Winaasandti Pawandtu Dte/Mae (use 'Dte' for wishing blessing on 'Them' and 'Mae' for wishing blessings on 'Me').
Temple of Origin:
Pra Somdej, Benjapakee Amulet
Year of Issue:Wat Arun (Temple of the Dawn)
Weight:15 Grams
Magical Effects:Metta Mahaniyom, Maha Lap, Kong Grapan Chadtri, Klaew Klaad, Maha Pokasap, Maha Amnaj, Serm Duang Serm Yot.
Material:Puttakun Powders, Five Sacred Powders of Somdej Dto, Brass Coin, Gems.
Recommended Uses:Increase Status and Wealth, Protection, Improve Fate.
Size of Amulet:Jumbo Size 5.4 x 3.3 Cm
Edition:Gao Maha Mongkol Edition